Over the years, here at Slateskin , we have been extremely fortunate to see our range of Flexible, Thin Natural Stone veneers used on several commercial applications from offices, hospitals, hotels, restaurants, clinics, retail stores, shopping complexes, malls and more.
One of the most essential elements of any commercial building is proper signage. You need the right lettering to ensure that customers and clients find your building with ease. Very often, clients prefer using our extensive range of flexible stone veneers as a backdrop for their signage. This is because the stone surface makes the space look attractive and provides a pleasing yet eye-catchy backdrop for the signage.
One of the questions that our clients often ask us is, "Is it possible to install signage over slim stone veneers?" Here, in today's post, we show you the best ways to install signboards on top of thin stone veneers.
How to Install Signage on Thin Stone Veneers?
Since our products are made from natural stone; they have an uneven texture just like natural stone. This makes installing commercial signs that lay flat on the stone impossible. The best solution is to make use of "stand offs."
A stand-offs is a piece of hardware that makes the letters stand a couple of inches away from the surface of the veneers while ensuring that the lettering remains flat and in a uniform level.
Take a look at the following diagram that explains how these letters are installed on thin stone veneers.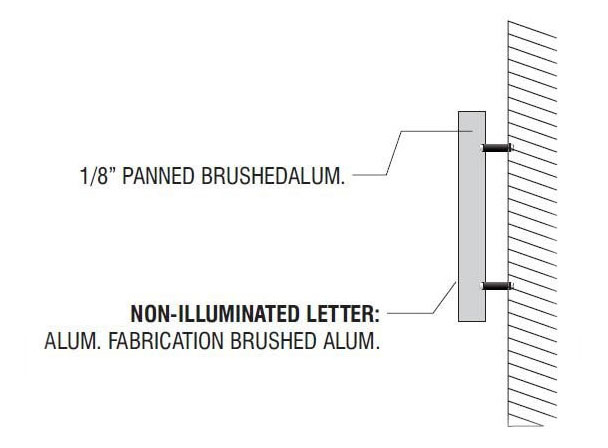 Generally, a stand offs has several parts. The first part is a small cylindrical shaped barrel that is screwed into the surface of the stone veneer. Then, the second part is a headless threaded screw. This is screwed into the barrel. Then, the third and final part is the nuts and caps that connect with the screw on one end and hold the signage on the other end.
The signage generally comprises of individual letters that are arranged in a uniform level and spells out the name of the company or shop. Signs are usually made from aluminium, stainless steel, or even thickened plastic or glass.
Hire a Qualified Sign Installer
If you are installing signs for commercial applications, then getting a qualified professional sign installer is a must. When you hire a sign installer, they handle all the aspects – right from planning, to manufacturing and installing the signage. Additionally, they provide you with professional installers who make use of appropriate hardware to provide you with a professional finish.
Today, some professional sign installers also provide you with backlit signs that look gorgeous and stunning on your walls, both during the day and at night.
Things to Keep in Mind, While Installing Signage on Thin Stone Veneers
While installing signage on thin stone veneers, make sure that the holes drilled on the wall, align accurately with the "stand-off." Also, ensure that the "stand-off" is positioned at the right elevation. This is a must to ensure that the end result is spaced correctly and at the right level, away from the surface of the stone veneer.
Additionally, you can also use this "stand-off" hardware to hang shelves, art and other decorative items on your stone veneer walls.
Do You Have Any More Questions?
If you have any further questions on how to hang signs or art pieces on your thin stone veneer walls, don't hesitate to
get in touch with our friendly stone experts here at Slateskin. We can offer you the right assistance, while also help you connect with the right professionals. Get in touch with us today to know more.