If you're in the middle of a bathroom remodeling project, then you would know that it isn't as simple as it seems. Bathroom remodels are one of the most time-consuming home projects, as you've got plenty of smaller projects to take care of before you can complete the transformation.
Here, in this week's post, we take a look at the different ways in which you can use natural stone veneers to boost the external appearance of your home.
Natural Stone Veneers – The Perfect Option for your Shower Walls
Here are five reasons why Natural Stone Veneers make the perfect addition to your Showers.
1. Affordability
For years, natural stone was a luxury material available only to homeowners with deep pockets. However, all that has changed thanks to the introduction of natural stone veneers. Stone veneers provide you with the features of natural stone at a more affordable price. Also, stone veneers last for years to come, thereby providing you with great returns on your investment.
2. Easy to Install
Natural stone veneers are quite easy to install on your shower walls. The entire project can be completed on a single day (and mostly within a few hours). Natural stone veneers can be installed on all types of walls, without the need for any extensive preparations.
3. Energy Efficient
The beauty of natural stone is that it's one of the most energy-efficient construction materials. It retains heat during cold winters and remains cool during summer. If you hate cold and drafty showers, then natural stone is the perfect option for you. The shower stall remains comfortable and warm even during cold winter months.
4. Elegant and Sophisticated
Natural stone adds a rustic appeal to your shower rooms, making it look elegant and classy for years to come. With natural stone veneers, your bathroom will look picture perfect and stay in style, even if trends change.
5. Easy to Clean
Finally, natural stone veneers are easy to clean reducing your maintenance. If you're a busy parent, who doesn't want to spend entire weekends scrubbing and scouring the shower walls, then you'll fall in love with natural stone veneers. You can easily wash away dirt and grime using regular soap water and a scrub cloth.
Creative Natural Stone Veneer Shower Designs to Inspire You
If you love bright, spacey and airy bathrooms, then the walk-in shower is just what you need. There are plenty of styles to choose from. Here, we have given you a few ideas to get your creative juices flowing.
Are you ready to create your amazing stone walk-in showers? Here are a few design ideas to help you get started.
1. The Warm & Modern Look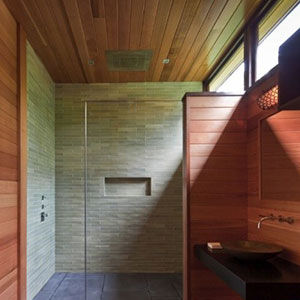 We love the simple yet contemporary design of this shower. The wood and the small grey stone veneers keep the overall design soft and natural. And, the large grey stone tiles on the floor provide a striking contrast.
2. The Subway Look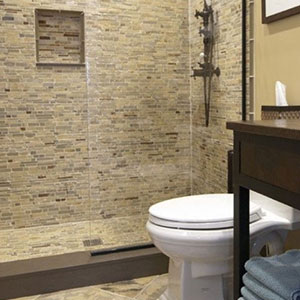 The small stone veneers help to create a warm and cozy look here.
3. A Dash of Color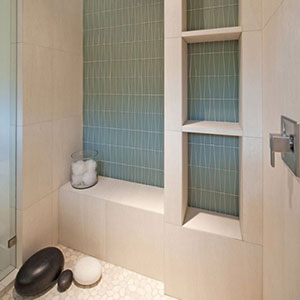 The turquoise colored stone veneers add a pop of color to this bathroom.
4. Brick-Style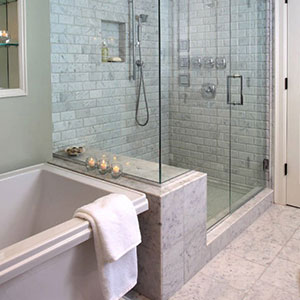 The brick style layout of the stone veneers gives a touch of elegance and class to this spacious bathroom, making it look regal and fit for a king and queen.
5. Slick and sleek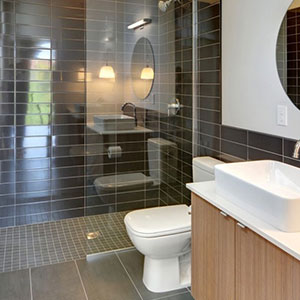 The minimalist approach makes this space feel so modern and contemporary.
This is a sleek bathroom with a cool, modern sink. The glossy long black stone veneers for the floors tie in the overall look.
6. Interesting Patterns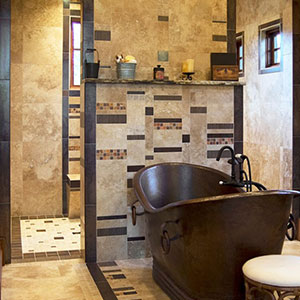 We love this unique look. And, the dark brown shades mean that dirt won't be visible and you'll not have to spend so much time scrubbing and cleaning your bathroom.
7. Roomy Shower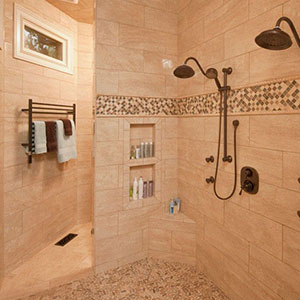 This bathroom is a girl's dream come true. It's so spacious that you'll never want to come out. The traditional style fixtures add to the overall design.
8. Small Yet Spacious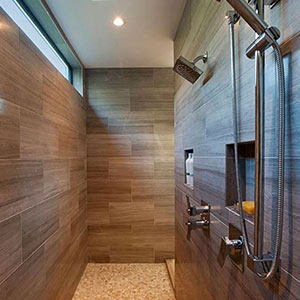 This is a great example of how you can design a small space to look and feel big.
9. Rain Shower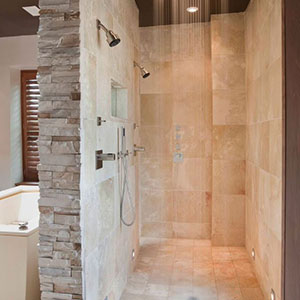 We love how natural stone veneers have been used here to create an interesting texture.
10. Mix of Sizes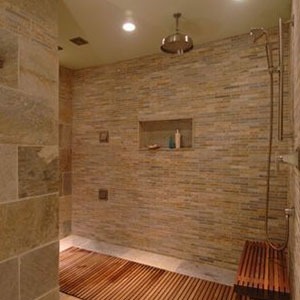 This trendy shower is a perfect example of how mixing stone veneers of different sizes can create an interesting space.
Final Thoughts
If you are ready to install a walk-in shower in your bathroom, then make sure to reach out to our team , here at SlateSkin. We'll help you pick the best natural stone veneers for your shower rooms.